Sony has this nice little utility for the PS Vita that allows you to sync and backup your content. It's called Content Manager Assistant (CMA).1 It runs as a menubar item on your Mac (or a taskbar item on Windows) and after initial setup the interaction is managed from the PS Vita itself. You can back up your entire PS Vita, sync music and photos, and the whole thing works over USB or Wi-Fi. Pretty neat.

As a Playstation Portable owner I was happy to hear that they have a native Mac client. Back in the PSP days we had to hike both ways uphill in the snow with third-party software to sync content to our Macs.2
However – oh, you knew this was coming – there is an issue with how the application is installed. By default, and with no way to change this setting via the application's preferences, it will run at login for all users. Trying to remove the login item via the Users & Group preferences pane will prove frustrating.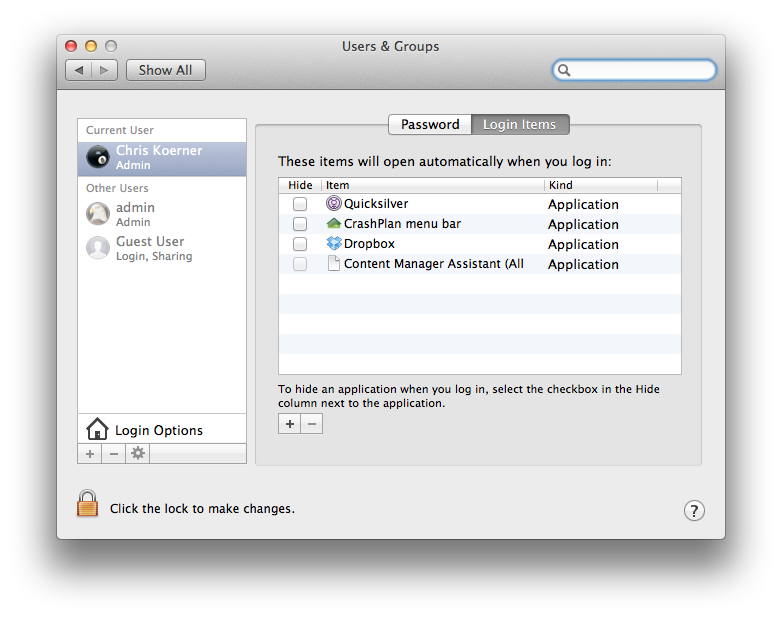 WTF Sony.
Here's how to remove this. Note: if you update or reinstall CMA, you'll have to do this all over again. Yay!
First navigate to the "Macintosh HD/Library /Preferences" folder and look for a file called 'com.apple.loginitems.plist'. This is not the same as your User directory (~/Library/Preferences). You should be able to open it with something like TextWrangler.3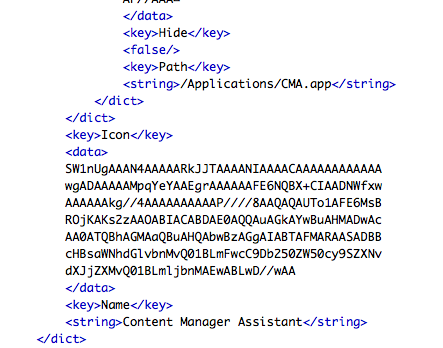 If the only entry you see in the entire file is for Content Manager Assistant or CMA.app feel free to just delete the file. You'll be prompted to enter  your admin username/password to remove the file.
Update: SkatyGarcia on Reddit schooled me on a much better way to remove CMA from startup. Instead of all the mumbo-jumbo I describe above, instead click the 'unlock' icon in the lower left of the Users & Group preference pane. Enter your admin password and then you can remove CMA from the list. Much more logical than my directions.
Restart your Mac, check the Users & Group preference pane and curse the developers at Sony (nicely, they did make an otherwise useful app).
I hope this helps regain some control and relieve some frustration for other Mac/PS Vita folks out there in Internetland.
---
Isn't it weird that the app is named "Manager Assistant"? Is it a manager or an assistant? Or maybe it's the Assistant to the Manager?↩

Both awesome and free, might I add.↩