I discovered a little trick when pairing an Apple Bluetooth Keyboard and I thought I'd share my notes in hopes that I could help someone in a similar situation. Let me know in the comments if this helped you!
I borrowed a cubemate's Bluetooth Apple Keyboard to use with my Mac while I'm at my work desk. He had previously paired the keyboard to one of his iPads1 and did not un-pair it before giving it to me.
I was able to set up the keyboard just fine, but every once in a while it refuses to pair to my Mac. I power the keyboard on, the green light appears for a moment and then goes dark. While I have yet to confirm my suspicions, I believe that it's trying to pair with the previous iPad and in certain cases succeeding.
I discovered that if you hold the power button down while trying to pair the keyboard to a new device it will force the keyboard into "discovery" mode.
With the keyboard off2 press and hold the power button. Don't let go. Now open the "Bluetooth Setup Assistant" under "Set up Bluetooth Device" via the Bluetooth menu item.3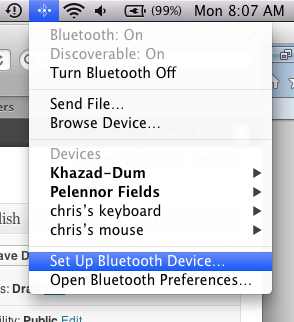 Select your keyboard from the list of discovered devices and select Continue. If all goes well you should be prompted to enter the randomly generated 8 digit pass code to pair the keyboard. Once you see this screen you can stop holding down the Power button and continue the pairing process.