I just picked up a new Macbook and wanted to share my experience with getting Lion and Filevault working with the OWC Data Doubler.
The Data Doubler1, my dear reader, is a frame with a SATA connector that fits in place of the internal optical drive (The floppy of the '10's!). It holds any 2.5″ hard drive like a normal HDD bay would. Why would you want to do this? Well you get the speed of a SSD and the capacity of a HDD at the cost of not being able to read/write DVD's and CD's.
My setup was as follows:
SSD
OS X and Applications on partition 1
Windows 7 via Boot Camp on partition 22
HDD
OS X User directory (Documents, Movies, Music, Photos, etc.)
Note: I wasn't that interested in encryption, but I've included instructions never the less. I played with it and found it to be limiting.
Ingredients
I purchased the Macbook with the upgraded 128GB SSD ($90 increase over stock), nabbed an inexpensive traditional HDD on Newegg (500GB WD 7200 RPM Scorpio Black) and picked up the Data Doubler from OWC. The Data Doubler came with a nice little tool kit for opening the Macbook. I followed the always handy guide over at iFixit to take it apart.
If you're also thinking about upgrading your RAM (Never buy from Apple, pick it up cheaper from Crucial or else ware.) now is a good time to do it as you'll have the case open and RAM exposed.
Note on Boot Camp
First, don't remove the optical drive just yet! At least, if you want to install Boot Camp and to run Windows you're going to run into trouble. Once the optical drive is removed and if you try to use an external drive to install Windows you'll get a blinking cursor upon boot and won't be able to continue the install.
Note: These directions are assuming you'd want Boot Camp on the SSD. If you're looking to have Windows live on the HDD,  you'd have to put the HDD in an external enclosure and install from the internal optical drive.
Setup a Secondary Account
Your first step is to boot into Lion and setup an account. This account should not be the name of your primary account, but an admin account you can use for…administrative purposes.
If you're looking to install Windows, launch the Boot Camp Assistant, step through the guide, partition a chunk of your SSD/HDD for Winders' and install.
Once complete you should be able to install the Data Doubler. I suggest putting the HDD in the internal hard drive bay and the SSD in the Data Doubler. The optical drive bay that the data doubler will occupy does not have the sudden motion sensor that the default hard drive bay would. SSD's don't need the sudden motion sensor – traditional hard drives do.
Without Encryption
That new (and large) HDD you're going to store all of your stuff on probably didn't come formatted. Open Disk Utility and Erase the drive/partition. Use "Mac OS Extended (Journaled). Give it a good name. I called mine "Macintosh HDD".
So now boot into OS X, login to your admin account and setup a new user account. This will be your day-to-day account with all of your documents, music, etc. Open System Preferences, select "Users & Accounts" and click the little plus button toward the lower left. (You may need to unlock the control panel with your admin password.)
Once you create the user via the System Preferences, "control + click" on the account and select "Advanced Options…".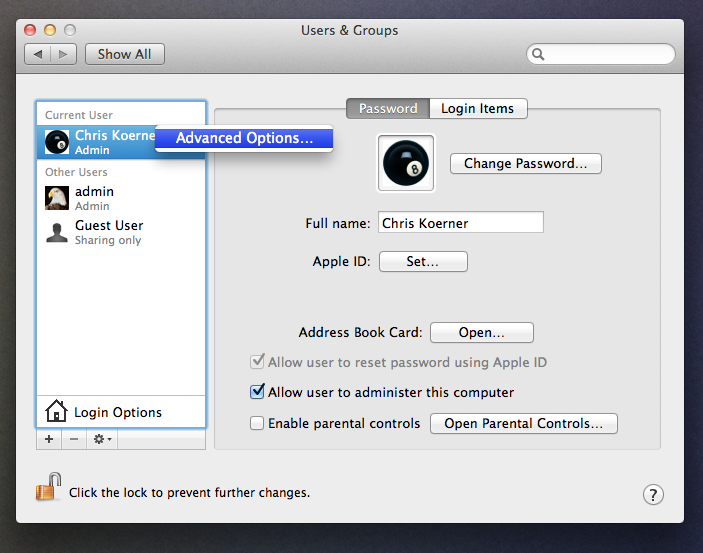 From here you can select where the "Home directory" lives. I pointed mine to a manually created folder on the HDD under "/Users/username".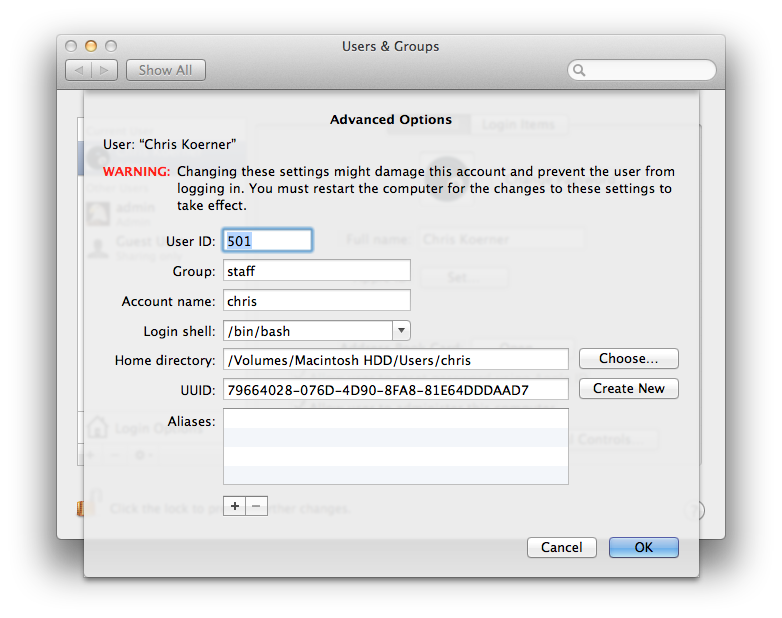 Now you should restart, login to your new day-to-day account and get to work!
With Encryption
If you want to encrypt just the SSD, go right ahead and use Filevault. Be warned however that Boot Camp doesn't appear to work nicely with the full disk encryption.3
The GUI for Filevault does not support encrypting secondary or external drives. To encrypt the HDD with all your documents, boot into OS X , login to your secondary admin account and launch Disk Utility. You'll want to erase the HDD and set it up as "Mac OS Extended (Journaled, Encrypted).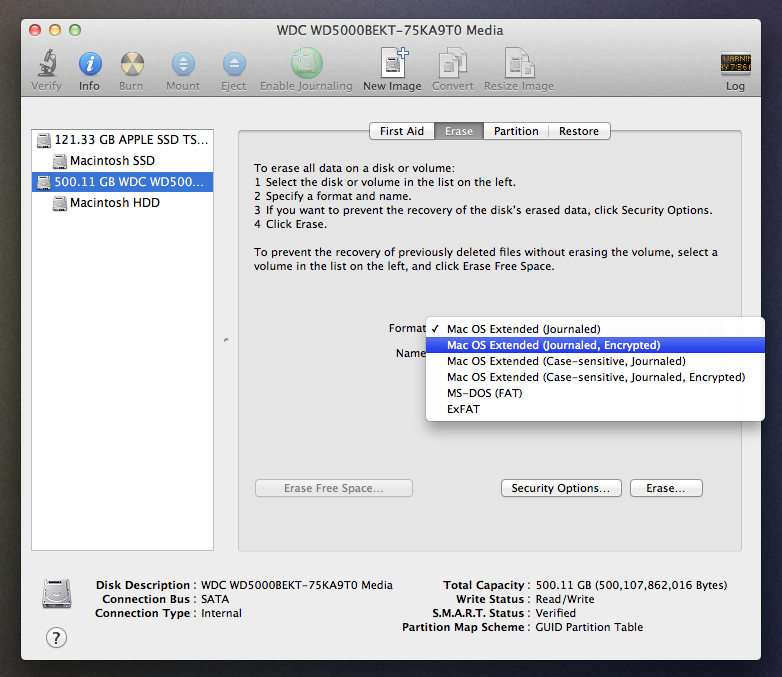 Note: You can also do this via the command line. Open Terminal and run "diskutil list". Make note of the IDENTIFIER for the HDD. Then run "diskutil cs convert diskidentifier -passphrase yourpasswordhere" (If you don't provide a password you'll be prompted to do so. Be careful when typing!)
Change your mind about encrypting that secondary hard drive? Use "diskutil coreStorage revert diskidentifier". Disk Utility will then decrypt the drive. This might take some time, so to check the progress type "diskutil coreStorage list". Look for the line mentioning "Conversion Status" to see how far along the encryption or decryption is.
A Note on Encryption and the Keychain
After encrypting the HDD and trying to login to the day-to-day user account (that lives on the HDD) I would get an error and not be able to login. I could login fine with the secondary admin account as it lives solely on the SSD. Apparently this is a bug (or feature!) with how the password for the encryption is stored in the keychain. The secondary admin account has access and doesn't rely on the password to mount its user directory. The day-to-day account does rely on the password to decrypt the HDD, but doesn't know the password (as it's stored in the keychain of the user that created it.)
The solution is to login to the secondary admin account and run this utility. It's called Unlock and performs magic to allow the system to authenticate the HDD upon boot, not user login.
Conclusion
At 1,000 words this is probably my longest blog post – ever. I hope it helps those brave few who want to turn a Macbook Pro into a super-charged Macbook Air. Well, kinda. The power of the SSD, large screen real estate and superior graphics! It's ALIVE!
—
Thanks to the chaps and chapettes in the following communities for their assistance in figuring this out.
Update: After this was posted this hint showed up over on Mac OS X Hints. There might be a few nuggets of wisdom for you there regarding FileVault and secondary drives.
Update 2: Hello Googlers. There's been another great hint shared over at Mac OS X Hints that might prove useful to those wanting to encrypt the HDD where your user data resides.
---
A competitor to the Optibay. I chose the OWC solution due to the cost and that I've always had a good experience with them in the past.↩

This was the plan. I ended up not installing Windows as I had already removed the optical drive and did not want to put it back in just to install Windows. I ended up part ironing the HDD and installing Windows 7 there. That partition is, obviously, not encrypted via FileVault.↩

It's a trade off. Both the SSD and HDD encrypted with no Windows or the SSD encrypted and the HDD not encrypted with Windows installed.↩