Television has set the standard of common resolutions and aspect ratios for years, but not everything seems as smooth as it should. For one as we are becoming increasingly more web-centric in our distribution models why are we sticking by these ancient limitations of size and shape.  Isn't there something inherently more flexible with the web? Let's challenge those norms and create something new with video.
Why do we have 16:9 aspect ratio TV sets but most computer monitors are 16:10? TV and computers both migrated toward widescreen layouts around the same time, but why such a subtle difference?
Another funny think about resolutions and the web is that there is no consistency. Take a look at this chart showing common resolutions of visitors to this site: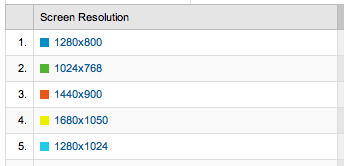 Some common Laptop resolutions and old school 4:3? How about netbooks?  iPhones and Blackberries add even more diversity.
I was sitting at a gas station the other night with my Flip and shot this, sideways. Why not? What I was trying to capture was better suited for a more portrait-like frame and it felt almost natural to hold the camcoorder like a small digital camera. Not to mention I can display a higher resolution video in the confines of the 450px column width on this site.
I'd like to see more creative uses of video, like this. What do you think? Is this just crazy talk?