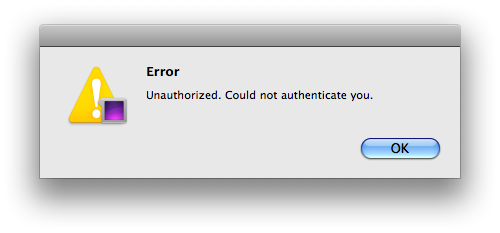 I saw this message earlier today after trying to get Tweetie to work on my home Mac.  I was able to setup multiple accounts with ease at work, but for the life of me could not figure out why I was getting this error message. I tried retyping my account details multiple times, each time making sure to type my password as slowly and precisely as possible.
After an apropos search on Twitter about the error I came across this tweet.
rbieber: @frumpa thats odd. This time I entered the password first (where focus defaults) and then username and authenticated fine. Bug?
A quick test confirmed that the order in which you enter your credentials for secondary accounts is a bug.  It appears  you need to enter your password first and then your username.
If this doesn't make any sense, see the video below.
[qt:http://clkoerner.com/videos/tweetie-bug.mov http://clkoerner.com/videos/tweetie-bug-poster.mov 490 470]
I should mention despite this small bug I'm enjoying Tweetie very much and am sure the developers will remedy this. Most likely right after I hit the Publish button.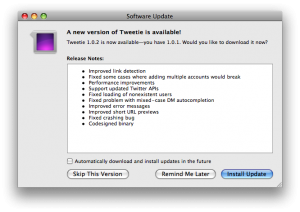 Update: Well pretty close, atebits updated Tweetie today to 1.0.2, which fixes this problem.